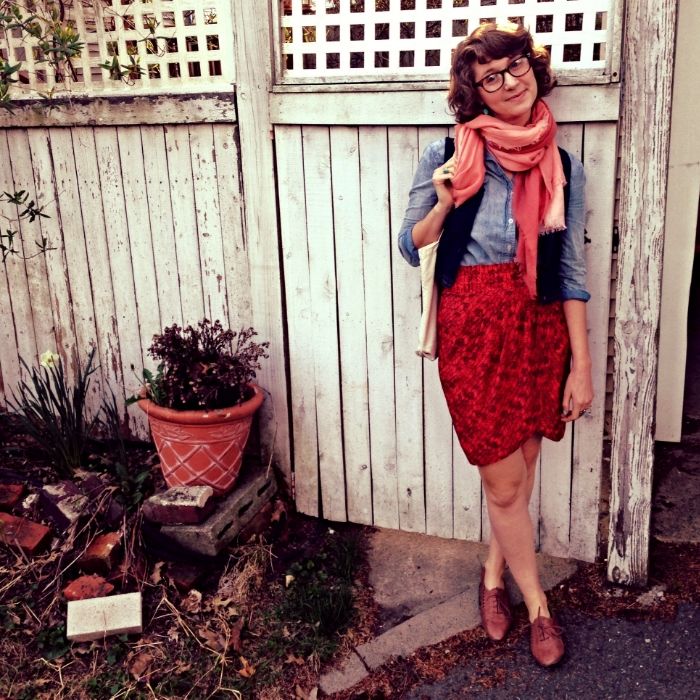 skirt: forever 21 // chambray: forever 21 (similar) // vest: thrifted, VT // scarf: target via thrift, CA (similar) // shoes: urban outfitters (exact) // glasses: c/o firmoo.com (exact) // earrings: borrowed from my ma -- thanks, ma!
Here's what I learned today: it's basically impossible for me to wear a vest and not constantly sing
this
from
The Simpsons
. (I also learned it's impossible to find a better quality video of that clip online, so I guess I learned two important life lessons today.) I didn't start the day off wearing a vest, though; initially I was vest-free and had on a belt, but I'm at my parents' house for the day and found this weird little number in the attic, so I decided to make good on the promise I made myself when I bought it years and years ago -- namely, that I'd totally, absolutely wear this bad-boy nonstop. I think I proceeded to wear it a total of zero times, and even though it didn't put me back much financially (fifty cents ain't so bad), I'd like to think that I'm an honest person who keeps her word. So, here goes -- enter The Vest into my regular wardrobe. Thoughts? Ideas? Concerns? I promise to not upgrade to one made out of puppy hair, if that puts you at ease a bit (I'm no Mr Burns!).