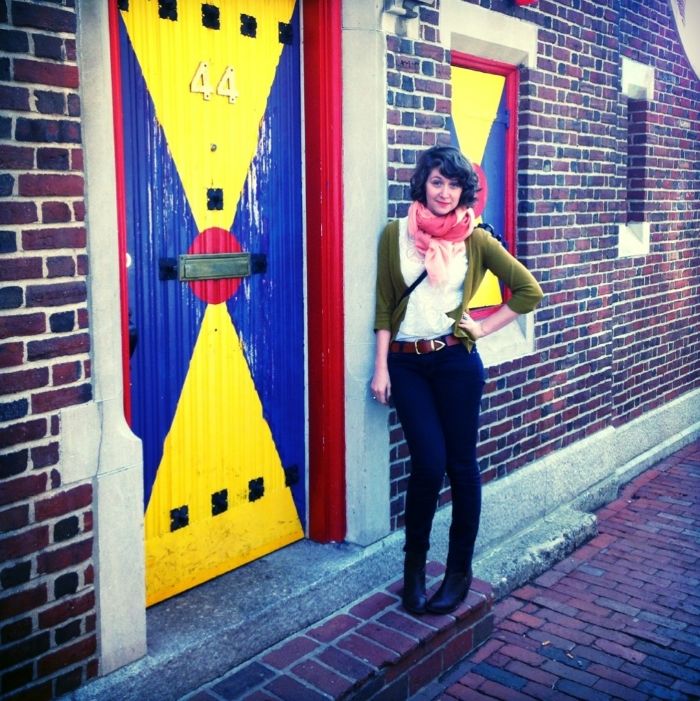 jeans: urban outfitters // shoes: h&m // belt: street sale, SF // tank: target // lace t-shirt: f21 (exact) // necklace: made out of an old purse string // cardigan: target via thrift, CA (similar) // bag: thrifted, ME // scarf: target via thrift (similar)
Oh, hai there! It's been awhile. Moving across the country is... not so much fun; true story. I spent most of last week juggling packing, cleaning, working, and saying goodbye to friends and family. It was jam-packed, followed by a restless night's sleep in our apartment, sans-mattress (pro tip: sleeping on a wooden floor? Not so comfortable), and then hectic flight from San Francisco to Boston with two drugged and unhappy felines. As you can imagine, it's been an exhausting week, and I haven't had the time to think about blogging. I've missed you all -- how have you been?
As these pics demonstrate, I'm pretty sleepy these days -- the cats have made a quick transition to East Coast time, waking me up to feed them when the sun comes up, but 6:30 am EST feels like 3:30 am to me still, which is... too early. Way too early. These pics were taken our first day in Boston (in Cambridge, actually), and I can't get over how tired I look (and sadly still feel, three days later). I'm looking forward to being done with this transitional phase and fully adjusted to our new routines -- or at least moved into our apartment in Maine (we get the keys tomorrow -- yippee!).