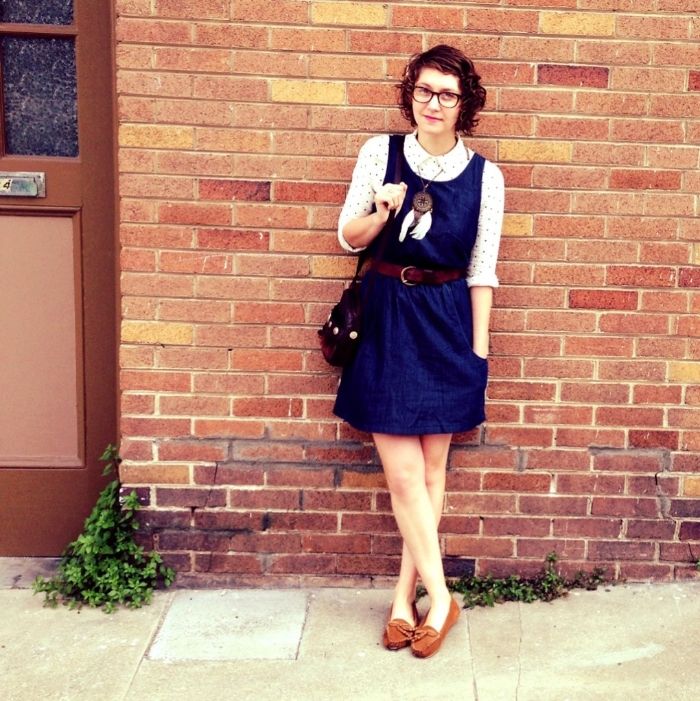 dress: gap, old (similar) // shirt: urban outfitters (similar) // shoes: f21 // necklace: thrifted // glasses: c/o firmoo.com (exact) // bag: thrifted, ME // belt: thrifted, VT
A quick post -- this is what I wore a few days ago for packing, and then out to grab a bite to eat with friends. Truth be told, I ended up swapping the necklace out for a scarf that I tied around my neck like I was an stewardess from the '60s. I think I liked that iteration slightly better than this one, but didn't manage to snap any pics -- as is, I only got two of this version! At this point in the week (and t minus 4 days 'til we move cross-country), I'm amazed I'm able to remember to put on clothes at all. I've been living in a pair of too-big black skinnies and a gray t; perfect for packing, but not quite blog-worthy.
Oh, and these glasses? I got these c/o
Firmoo.com
last week, and I really love 'em. Ordering glasses online is especially scary, but I actually like these more than my others (last seen
here
). These are lightweight, don't fall off my face, and help me see better -- basically, the main things I look for in a pair of specs. Plus, they're well-made but inexpensive. If you're in the market, check out
Firmoo's promo
: you get the first one free (you cover shipping; new customers only).
And, just a heads-up: I'm sorry to say, but I think it's unlikely I'll have time for blogging until late next week. Isn't moving the
worst?
Thanks for all the sweet comments on my last post -- I can't wait to see all your recent looks. I'll have a lot to read through once I get back to a regular schedule!