No outfit today (I did get dressed though, I promise) -- instead, I have a confession: as I've told you guys before, I'm moving back to Maine in about three weeks. I've also mentioned my rather comprehensive closet selection. I've been making strong progress with weeding out the duds and the unlikely-to-be-worn agains, and I'm proud to say that I've donated about ten (T-E-N -- count 'em!) bags of clothes to Goodwill in the last few weeks. I'd also managed to do a pretty good job avoiding shopping... until today.
I was downtown on my way home from a meeting and I somehow found myself in Madewell, where they were having a sale -- spend over $125, get 25% off. I've been eyeing
this gray dress
for literally months -- it's more than I usually spend on one item of clothing, but I can't seem to break its spell on me. After hemming and hawing in the store for about 20 minutes, I decided to go for it, but it didn't quite put me over the price limit so I bought a set of five rings, too. In the end, I basically got both for about a dollar more than the dress would have been on it's own. (Thanks Pops, for teaching me percentages when I was young -- I
totally
see their everyday value now!) So far, so good -- a purchase I've been considering since December and some jewelry that won't take up much room if shipped.
But then... I dunno. I just kinda had to swing by Goodwill? And then I just kinda had to buy all these things: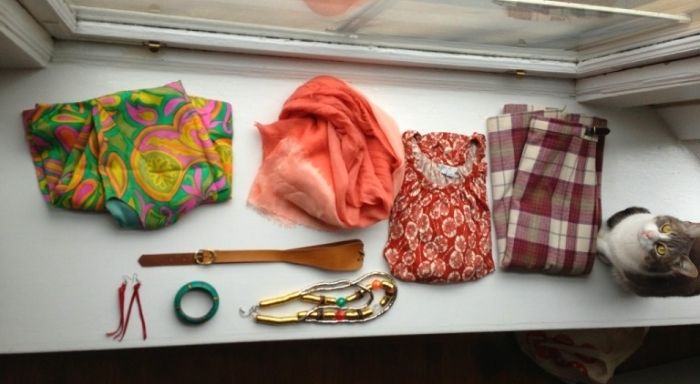 From left to right:
Amazing, crazy, perfect vintage sundress: $15: Look at that pattern! Look at those colors! Plus, it actually was my size and not tiiiiny or huuuge, like most of the vintage pieces I find these days. At $15, it was more than I like to spend at Goodwill, but I couldn't walk away.
Red leather fringe earrings: $2
Turquoise and gold bracelet: $2
Vintage leather belt: $2
Anthro-esque necklace that makes me feel like a crazy art teacher: $4
Super soft pink ombre scarf: Still with Target tags, $3
Actual anthro comfy t with a weiiiiird pattern: $4. Why do I love weird clothes so much?
Retro vintage skirt / blanket situation: $7. This plus ankle boots plus a winter hat? Yes please.
Cat: Not from Goodwill; that's Lady Sister Elizabeth Lemonsauce (we call her Little for short, since her sister is much, much bigger).
Ugh, team -- what happened? To be fair, I am so so so in love with all these things (and the total cost of all eight pieces was less than my Madewell purchase by more than half), but... this was not what I intended. Life lessons: don't try to go cold turkey when it comes to thrifting -- you will snap and end up with an entirely new wardrobe.
Exhibit A: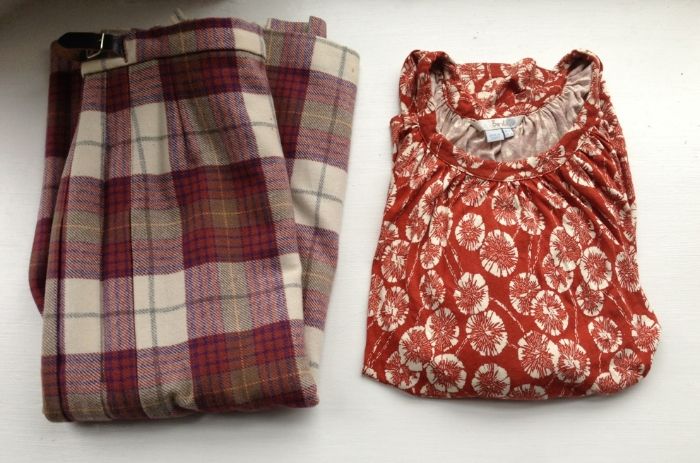 Exhibit B:
This dress, though. Look at it! It's perfect.